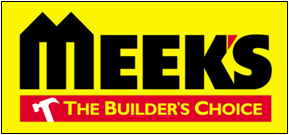 NEWS RELEASE
Contact:
Eric Sachse
Director of Marketing
Meek's The Builders Choice
Business phone: (417) 521-2801
eric.sachse@meeklumber.com
www.meeks.com
July 15, 2015
FOR IMMEDIATE RELEASE
Meek's Announces its Kansas Expressway Store Grand Re-Opening in Springfield, Missouri
Springfield, MO — Meek's will be celebrating its Kansas Expressway store's new remodel with a Grand Re-Opening event beginning Saturday, July 25th and going through Saturday, August 1st.
The Grand Re-Opening event kicks off Saturday, July 25th with "Customer Appreciation Day", a full day of fun and great prices. The Kansas Expressway Meek's in Springfield will run specials all day and serve free hot dogs and refreshments from 11:00am to 1:00pm. There will be a bounce house and a balloon artist for the kids. Adults can register to win Meek's door prizes, including the $500 Meek's Gift Card Grand Prize.
Meek's will offer more sales and fun as the Grand Re-Opening Celebration continues throughout the week, with free popcorn, soda and great deals.
Store specials include low prices on flooring, fencing, tools and more. Customers who purchase a K3.000 Follow Me Electric Pressure Washer for $199 will get a $50 value deck and driveway cleaner free plus a $25 Meek's gift card. 6' fiberglass step ladders will be on sale for $35 and 1" x 6" pine flooring is a great buy at just 47¢ a linear foot.  Meek's Kansas Expressway store is also offering a $5 instant savings on Valspar Medallion paint and a $10 instant savings on Valspar Pristine paint.
The Meek's Kansas Expressway Store Grand Re-Opening event is set up to show off the store's new look, including a reorganization of the space to better accommodate customers. Additional checkout stations and an expansion of several departments and product lines give this location a fresh new feel.
"We are looking forward to the Kansas Expressway Grand Re-Opening event," says Jim Kirby (manager at the Kansas Expressway Meek's). "We are ready to show off our new look and help customers explore our expanded product lines.  The new store will be extra convenient and a great resource for the people in this area."
"Meek's total store count is now up to 34. It is our goal to continue to improve and provide the most convenient services and best products to the area. We hope to reduce the cost in both time and travel for our customers," says Meek's General Manager, Charlie Meek.
About Meek's Lumber Company
With more than 90 years of experience, Meek's has become one of the leaders in the building materials industry; ranking in the top 30 nationally and voted Pro-Dealer of the Year by the national home improvement magazine, HCN. Currently there are 34 building centers in the Midwest Division with a general office located in Springfield, Missouri and 12 centers in the West Coast Division with a general office in Sacramento, California. Meek's range of services includes distribution centers for insulation, drywall, plywood and engineered lumber; a custom window and door manufacturing facility; and a delivery fleet of over 300 vehicles.  Meek's operates 2 full service Design Center Showrooms in Springfield, MO and Springdale, AR.  Visit www.meeks.com for more information.
###